USA Karate Celebrates Outstanding Results at 2023 Pan American Championship
Colorado Springs, Colo. – June 10, 2023 – The Pan American Karate Federation recently hosted the 2023 PKF Senior Championships in Costa Rica. Team USA's performance at the championships led to a remarkable second place overall finish, a third place standing in the Para Karate medal rankings, and a record 13 athletes qualified for the upcoming 2023 Pan American Games in Chile.
Gold medalists included Ariel Torres, Sakura Kokumai, and Skylar Lingl, as well as Kevin Rodriguez in Para Karate. These athletes demonstrated their commitment, perseverance, and exceptional abilities, showcasing the very best of American karate.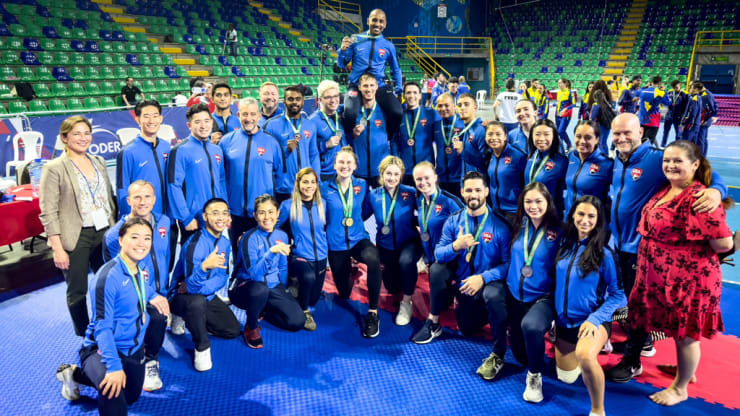 The success of Team USA was made possible not only by the talented athletes but also by the dedicated and skilled staff supporting them. USA Karate extends its gratitude to Elisa Au, the Head of Delegation, as well as Sasha Garrison, the Team Leader, for their leadership. The coaching team consisting of Javier Mantilla, Brody Burns, Jeff Kohn, Dustin Baldis, and Maile Chinen provided invaluable guidance and support to the athletes. The medical expertise of Dr. Michael Mauhar, as well as athletic trainer Nicole Clinton, ensured the well-being of the team.
For more detailed information on the results and achievements of Team USA at the Pan American Championships, please visit https://www.wkf.net/news-center-new/chile-top-medal-table-of-pkf-senior-championships/2244
USA Karate is also proud to announce the appointment of Fariba Madani as the Executive Technical Director to the PKF Referee Commission. This prestigious appointment recognizes Madani's expertise and contributions to the sport, further solidifying USA Karate's commitment to the development and advancement of karate.
Additionally, several members of USA Karate achieved notable certifications. Jony Martinez and Henry Barnabei earned PKF kata and kumite PKF C licenses, while Mark Lingl and Shanta Thokar earned kumite PKF C licenses. These certifications represent a significant milestone in their careers and attest to their dedication and skills as karate practitioners.
USA Karate congratulates Team USA on their exceptional performance at the Pan American Championships and applauds their unwavering commitment to the sport. The organization remains steadfast in its mission to promote and develop karate in the United States, and these achievements serve as a testament to the strength and talent of American karate athletes.
Additional WKF articles relating to the Pan American Championships:
https://www.wkf.net/news-center-new/classification-to-pan-american-games-completed-after-thrilling-pkf-championships/2247
https://www.wkf.net/news-center-new/valentina-toro-wins-second-title-as-chile-prevail-on-day-2-of-pkf-championships/2243
https://www.wkf.net/news-center-new/olympians-sakura-kokumai-and-ariel-torres-head-usas-success-at-pkf-championships/2242
https://www.wkf.net/news-center-new/claudymar-garces-and-vinicius-figueira-among-stars-winning-ticket-to-2023-pan-american-games-in-costa-rica/2241
https://www.wkf.net/news-center-new/growing-influence-of-women-in-pkfs-leading-positions/2248
https://www.wkf.net/news-center-new/pkf-congress-and-executive-committee-pave-way-of-progress-of-karate-in-america/2245